The Whole Brain® Advantage
Your organisation's success depends on its brainpower—use every ounce of it!
Results drive success. The faster and smarter you can reach your critical organisational goals, the quicker you'll see a return on your efforts. But if your organisation isn't putting every aspect of its intelligence to work—from problem solving and creativity to technical expertise and management discipline—you won't have the advantage you need to compete effectively in today's challenging environment. Herrmann International's Whole Brain® methodology is based on proven research into how people think and communicate. By drawing on the combined analytical, organisational, strategical and interpersonal skills that it takes to succeed today, organisations are able to harness the thinking styles of every individual for a complete Return on Intehermannlligence™.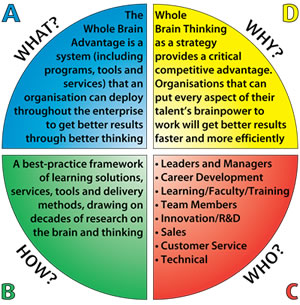 That's the Whole Brain Advantage.
The Whole Brain Advantage is the Herrmann® system (including programs, tools, products and services) that organisations deploy throughout the enterprise to drive better results through better thinking. By leveraging the Whole Brain Advantage, organisations are able to integrate Whole Brain Thinking into everyday business activity to achieve their goals more efficiently and effectively.
The Whole Brain Advantage gives people:
Insight into their own and others' thinking styles
Tools to leverage their natural preferences
The skills they need to operate outside their preferences when the situation arises.
When employees put Whole Brain Thinking to work, they approach problems, communications and planning more effectively. They break out of self-limiting patterns that interfere with productivity, innovation and creativity. With better thinking across the enterprise, organisations get better results—and the competitive advantage that comes with them. Nine out of ten Fortune 100 organisations rely on the Herrmann Whole Brain Advantage as a strategic approach. It helps them remain successful and nimble, even while the competition is grappling with turmoil and upheaval. Their results show the power of Whole Brain Thinking at work.
Essential results fueled by Whole Brain Thinking®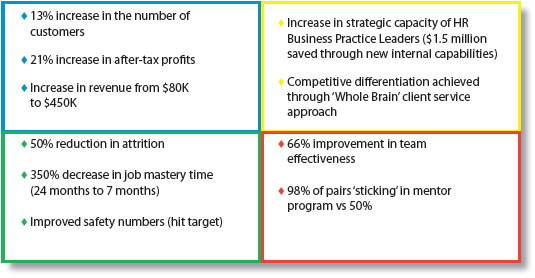 Gaining the Whole Brain® Advantage
The Whole Brain® Advantage is achieved through business transformation. Three things dictate the best way for your organisation to achieve its Whole Brain Advantage.
They are:
The specific business need that requires transformation
The management and availability of resources (time, money and personnel)
The scope of transformation (localised or generalised).
The interaction of these three things will dictate whether the path of Whole Brain Advantage is evolutionary, revolutionary or a business-wide metamorphosis.